SEMI-Compliant Equipment Integration
Ensure your market access to semiconductor, photovoltaic and electronics manufacturing with SECS/GEM, GEM300 and EDA interfaces
In order to secure market access to the semiconductor industry as a mechanical engineering company, compliance with the SECS/GEM, GEM300 and EDA SEMI standards is essential. SECS/GEM interfaces are used as an industry-specific integration layer in the semiconductor industry and for photovoltaic, LED, flat panel and electronics production. With the top level GEM300 SEMI standards (E39, E40, E87, E90, E94 and E116), you address fully automated and modern factories, while EDA is becoming increasingly important as a flexible and powerful interface for providing process data.
Resolving multiple challenges in SEMI-compliant equipment integration
Standardized communication protocols enable seamless data exchange between all connected devices and systems, which promotes efficiency, interoperability and reliability. The standardization of interfaces therefore plays a decisive role in semiconductor, photovoltaic and electronics production and presents a number of challenges for equipment integration.
Understanding and implementing customer requirements
The requirements of factory operators are extensive and very different depending on the industry. The precise analysis and evaluation of the customers' extensive specification documents and requirements engineering to assess the overall project are therefore often very challenging. Only the requirements that are actually relevant should be implemented in order to avoid over complication and unnecessary investments. Reliable planning, calculation and implementation of the project therefore requires employees with great expertise. However, these are not always available due to the current shortage of skilled workers.
Achieve frontend and backend standards compliance
Reviewing and evaluating the extensive SEMI standards is time-consuming but necessary. Only then can the standards relevant to specific machine integration be implemented. Since the SEMI standards were originally defined for frontend production in semiconductor factories, backend compliance is a particular challenge. In order to achieve compliance not only at the frontend but also at the backend, existing standards must be correctly interpreted and adapted – a task that requires a great deal of experience.
Maintenance and updates to maintain compliance and IT security
The individual SEMI standards are continuously revised and adapted to current developments. To maintain standard compliance, mechanical engineering companies need to implement these changes as part of regular maintenance and provide their customers with an update. Recurring updates of operating systems and firmware also require a regulated update process.
FabLink®: The easy way to a SEMI-compliant interface for equipment integration
FabLink® is the standard-compliant solution for implementing SEMI standards for the vertical equipment integration. With more than 15,000 installations worldwide, it is an advanced and well-established software solution that offers a wide range of connectivity options and supports various standards:
FabLink® to the equipment, e.g.:

FabLink® to the MES/host:

.NET/C# API

OPC UA

OPC DA

TCP/IP XML

Siemens (TIA, STEP 7)

Beckhoff (TwinCAT)

B&R

Mitsubishi

SECS/GEM

GEM300

EDA (Interface A)

PV02

SEMI A3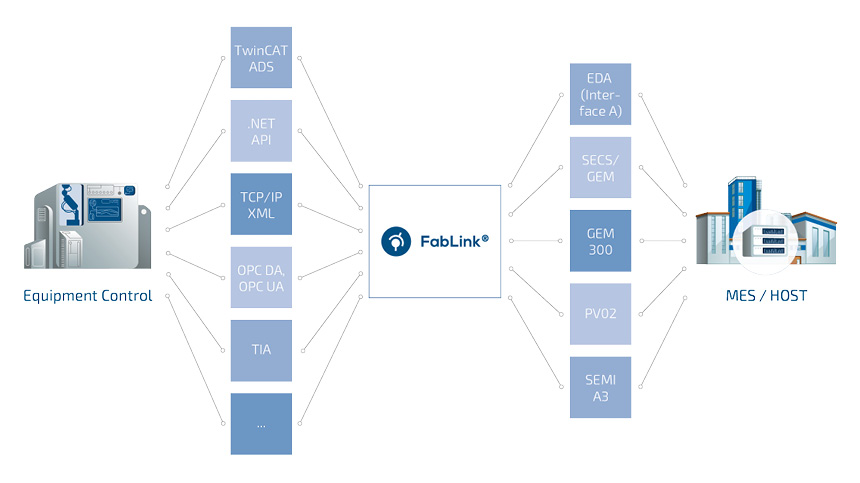 Get help from experienced project teams
We have been supporting and realizing equipment integrations in the semiconductor industry with FabLink® for more than 20 years. This has involved working with SEMI standards on a daily basis, and as a result we are your reliable partner for training, requirements analysis, consulting and project support. In addition, we develop possible solutions together with you and your customers. Thanks to continuous product development and the provision of updates, we ensure your compliance with SEMI standards, even as they continue to evolve.
Profit from a high level of planning security and predictable costs
FabLink® gives you planning security, especially during initial projects. In contrast to software developed by companies in-house, where costs can become unmanageable, especially if you do not have much industry experience, with FabLink® you benefit from calculability through binding offers for project implementation and clear licensing structures without recurring annual payments. This ensures that you stay within your implementation budget.
Enjoy low costs in follow-up projects
Configuring instead of programming – with FabLink®, you can already configure subsequent projects independently if desired and carry out commissioning on your own, thanks to the training provided as part of the initial project. All that is needed are the runtime licenses for the individual machines.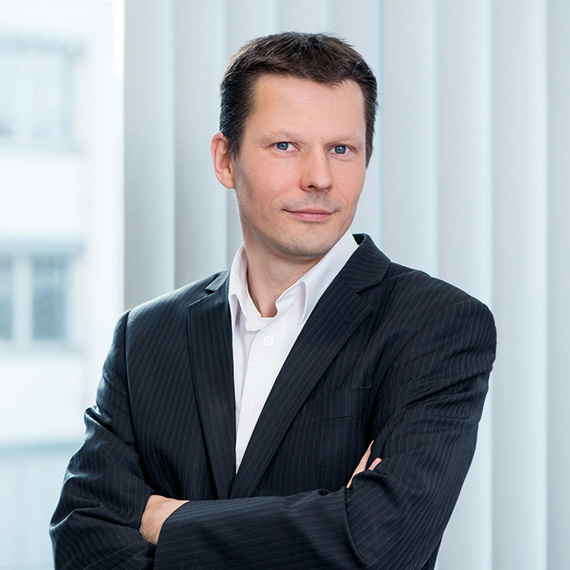 Roman Olwig
Sales Manager
Connectivity, Integration and Rail Automation