Automation Solutions for Marshalling Yards and Hump Yards
Automate your operations to optimize shunting processes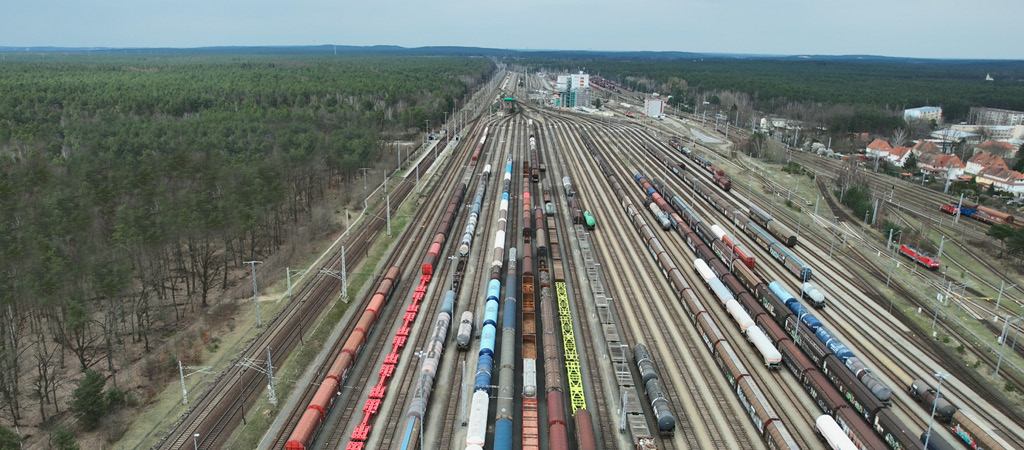 Marshalling yards and hump yards for dismantling and assembling freight trains are at the heart of single-wagon traffic, but their complexity also presents challenges. Huge amounts of freight have to be moved and coordinated every day, with manual processes reaching their logistical limits. Managing the increasing volume of freight therefore requires digitalized and automated solutions. Delays in marshalling yards can have far-reaching effects on the efficiency of overall rail operations. Our advanced software solutions optimize handling and ensure smooth, future-focused yard operations — from speed control and route control to predictive maintenance. We help you maximize the efficiency and reliability of your yard.
Challenges in operating marshalling yards
Constantly changing flows of goods and trade routes
Constantly changing flows of goods and trade routes require increased capacities to shift more goods to rail.
Marshalling yards are important hubs for sorting and assembling freight trains. With increasing transport demand, operators must efficiently handle larger volumes of freight, which leads to potential capacity bottlenecks and a need for optimization.
Infrastructure and maintenance
Ageing infrastructure can present challenges that require regular maintenance, repair, and modernization. Ensuring the safety and functionality of tracks, switches and other components is essential for efficient marshalling operations.
Complexity of processes
A wide variety of freight wagons with different rolling properties require a sophisticated, safe and reliable control system that enables fast and reliable train dispatching, even in changing weather conditions.
Technological integration into an existing system
The modernization of marshalling yards allows the introduction of new technologies for monitoring, automation and data analysis. Integrating these technologies into existing systems can be a challenge and requires investments and, where necessary, adjustments to workflows.
Competition with other means of transport
Marshalling yards compete with other means of transport, such as trucks and ships. To remain competitive, railway companies must offer cost-effective and efficient services.
Solutions for automating marshalling yards and hump yards
With over 25 years of experience, we are your reliable partner for implementing safe automation solutions for marshalling yards and hump yards. Our strength is understanding and implementing the complex requirements of the rail industry. Let us work together towards efficient and reliable marshalling yards.

Automating manual processes for optimized marshalling operations
Hump yards and train formation yards are undergoing profound transformation as a result of implementing automated solutions, which also fundamentally changes manual processes. Automated route control eliminates the need to manually set the switches and reduces possible sources of error to a minimum. In combination with the automation of rail brakes, efficiency is not only increased, but safety is also significantly improved. Moving from paper-based handling processes to a modern logistics system also ensures seamless communication and smooth process flows.
Safety standards and many years of expertise enhance the safety of your operations
Our software development follows a strict process in accordance with SIL 2 software safety requirements in accordance with DIN EN 50128 (CENELEC).
Predictive maintenance for improved staff deployment and scheduling
Implementing a predictive maintenance strategy offers a number of advantages that significantly influence the efficiency of marshalling and hump yards. Accurate forecasts of maintenance requirements and potential downtime enable resources to be allocated more efficiently, improving the overall performance of the marshalling yard. A consistently high level of availability is maintained as unforeseen failures are minimized. The timely replacement of spare parts just before the wear limit is reached extends the life of the systems and minimizes unplanned downtimes.
In the event of unforeseen challenges, we can offer you quick remote support. This means that expert assistance is provided even in time-critical scenarios in order to minimize the impact on operations.
Conveying system control
Control systems for conveyors are important in marshalling yards to ensure optimal use of the tracks and that wagons are positioned so that they are ready for coupling. This level of control improves shunting quality and at the same time increases the throughput of the yard.
Establishing interoperability of marshalling equipment
In order to ensure the interoperability of marshalling equipment, a complete solution strategy is put in place. This includes the integration of sensors, including radar devices, a precise weather measurement station, recording of rolling properties, identification of separation points, speed measurement, occupancy detection, balise positioning and filling level measurement on the sorting siding. In addition, actuators are implemented for the remote control of rail brakes, switches, conveying systems and signals. Following integration of the sensors and actuators, the whole solution is integrated into the customer's logistics process to ensure optimal communication and coordination between the systems. The result is a complete solution that enables efficient and smooth marshalling operations.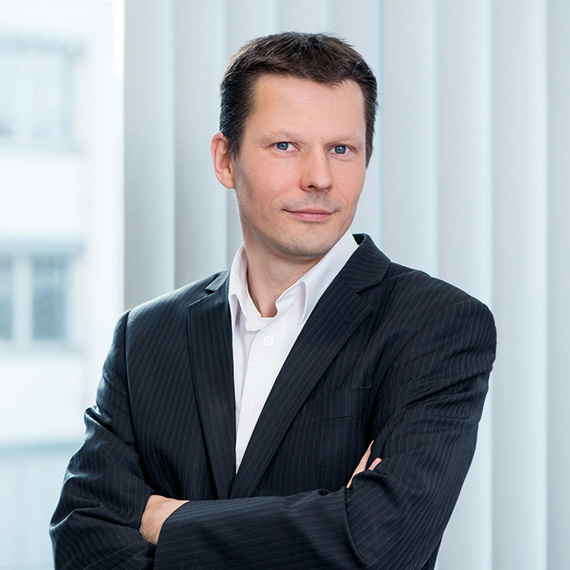 Roman Olwig
Sales Manager
Connectivity, Integration and Rail Automation