Production Control and Data Acquisition in Photovoltaic Production
Industry-specific MES solutions for greater sustainability and efficiency in your PV production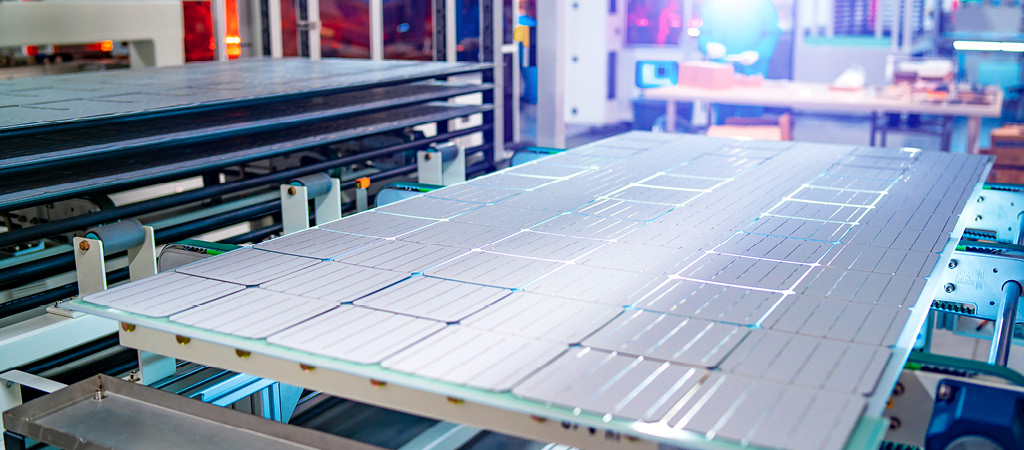 The production of photovoltaic cells and modules not only requires maximum efficiency and performance, but also places high demands on a production control system in cell production and downstream module assembly. Data acquisition and production control are required in manufacturing scenarios involving very high throughput and unidentifiable individual products. In addition, there are also industry-specific machine interfaces and extensive data from material, machines and measuring equipment. Manufacturing execution systems (MES) offer manufacturers excellent support for these challenges.
Potentials through the use of MES
Transparency in production gives employees important insights into process changes, relations and events. By digitalizing their data acquisition and visualization, PV producers gain a deeper understanding of their processes, achieve comparability of complex dependencies, and promote the exchange of optimization potential within the team.

Quality management requires reliable product data from traceability, which the MES provides. This gives process engineers, for example, important insights into the influence of individual process steps on their value chain and a proof of quality for the manufactured products and material batches used. In addition, rapid identification of product defects reduces scrap, which directly reduces costs.

The central management and distribution of recipes, orders and machine parameters simplifies your work on the machines and enables you to track which products were produced with which specifications. In addition, the MES controls the transport managers for AGVs (Automated Guided Vehicles) and transport systems based on work schedules.
Production control requirements in the PV industry
The production of photovoltaic cells and modules is characterized by a combination of requirements laid down in the standards of the semiconductor industry and standards for high-volume production.
Support is provided for industry-specific data interfaces such as PV02 and SECS/GEM but also OPC UA to connect production machines.

Providing seamless tracking for solar cells, which generally do not have tracking features such QR codes but have to be tracked virtually via their position in carriers and machines.

Offering capability for high-performance data handling and structured archiving to ensure the high volumes of data generated, such as images and measurements, are processed at a high throughput.

Central management and monitoring of the high level of automation and time-critical waiting times.

Representation of the high-quality requirements of the manufacturing process, as these have a direct impact on the efficiency of solar cells.
FabEagle®MES: Key functions for solar cell production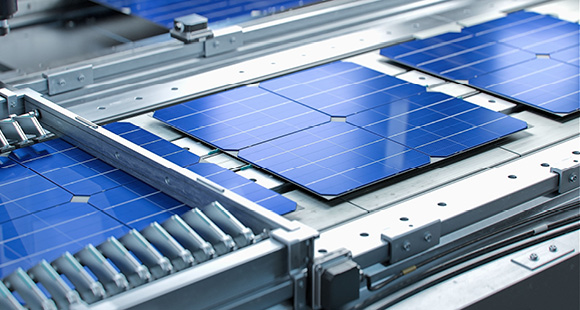 In order to precisely monitor and control the production of highly efficient solar cells, our specialized MES offers you single-wafer tracking across all process steps in production to the finished cell. This allows you to link process and quality data from machines and measurement devices to individual wafers. Additional time stamps, such as process start and end times and location change information, can also be recorded within the production and used to monitor and control production quality. FabEagle®MES is also characterized by virtual tracking, i.e. tracking without individual wafer marking across all process steps from incoming wafer inspection to classification and testing systems for the finished solar cells.
MES operator workstations used in production monitor and collect additional information to track consumables. Specialized stations for wafer picking and solar cell packaging can also be provided.
FabEagle®MES: Key functions for solar module production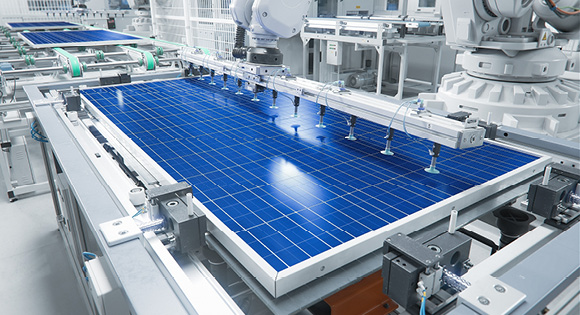 In solar module production, our specialized MES offers graphical user interfaces for module inspection and rework, as well as for configuring and monitoring the automatic logistics and palletizing of finished solar modules. Workstations that can be used via touchscreen are specifically designed to enable fast and efficient inputs. This allows employees to keep pace with the line cycle and at the same time record accurate data for quality management.
Every machine can be connected to the FabEagle®MES, from loading the glass, stringers for solar cells, matrix layup, laminators and testers to palletizing. This enables you to collect all necessary quality and measurement data for monitoring production and improving processes. In addition, tracking all consumables makes it possible to create a complete genealogy of every solar module.
The fully automated production of solar modules of various performance classes and formats requires a high level of process-driven production control. In addition to this MES functionality, the focus is also on working under high time pressure during commissioning. Short time frames for commissioning and efficient ramp-up phases require a smooth process when integrating all systems and processes into the MES. To support systems launch from the very beginning, FabEagle®MES offers a proven range of functions specifically designed for the PV industry with proven interfaces for integration.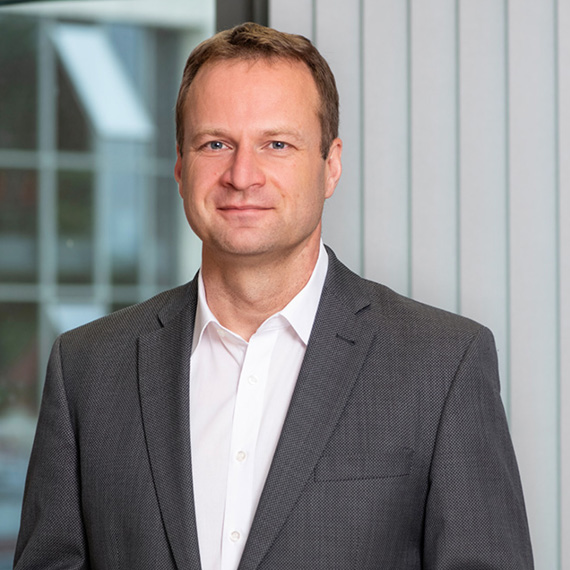 Frank Tannhäuser
Senior Sales Manager
Manufacturing Automation, Automotive, Photovoltaic