Proactive Service and After-Sales for Reduced Response Time
Act proactively and quickly during the production process
Say goodbye to reactive customer service: make your service and after-sales proactive and reduce response time by identifying faults and downtimes at an early stage. React quickly and flexibly to important events thanks to instant notifications via mobile devices. Benefit from schedulable maintenance and repair work that can be integrated into the ongoing production process or performed via remote support. In this way you, the machine manufacturer, act proactively, significantly increase the customer satisfaction of operators and benefit from rising service revenue.
Challenges when establishing proactive service and after-sales
Staff turnover and lack of knowledge transfer
The increasing fluctuation of employees in companies is a global phenomenon that is particularly noticeable in service and after-sales. However, service efficiency and speedy problem resolution are linked to expertise and experience. So the challenge facing mechanical engineering firms today is how to establish proactive service and after-sales and ensure a sustainable transfer of knowledge between experienced and inexperienced employees.
Lack of a consistent database
Service and after-sales often lack valuable and complete information about customers and machines that they need when solving problems. A considerable amount of time is wasted searching for this information. The reasons for this often lie in a lack of consistent data, which results from incomplete documentation at project handover, different file formats or not having everything stored in one place.
Widespread insular thinking and isolated solutions
It is only in recent years that the added value of cross-functional project teams and collaboration has been widely recognised. Insular thinking and isolated solutions are still common in mechanical engineering, with the result that information is not effectively communicated between departments and solutions are not considered from a company-wide perspective. Instead, a problem is solved quickly and for only one area, without taking into account the requirements of all stakeholders.
Insufficient acceptance of digitalization
Proactive service and after-sales are most effective when the service offering is highly digitized. To do this, the entire company must declare the digitalization process a management task and persuade all its employees to embrace it. The digitalization mentality required for this in medium-sized mechanical engineering companies is often paired with a general feeling of resignation as well as budgets and resources insufficient for implementing it with a clear sense of purpose.
Service and after-sales — the outsider in the company
Service and after-sales departments are still struggling with their position of outsiders in the mechanical engineering industry today. They are only called upon when things are already critical for the customer. However, when they work closely with sales they can generate enormous revenue potential. By maintaining continuous interaction with customers throughout the entire machine life cycle, service and after-sales become partners who open doors to customer success and identify new requirements first-hand.
Solutions for medium-sized mechanical engineering firms with EquipmentCloud®
Information stored in one place
With the EquipmentCloud® software-as-a-service solution, machine manufacturers can gather all service information relating to their machines and systems in one place and make it available proactively. In addition to documentation such as manuals, assembly instructions or SLAs (service level agreements), an intelligent knowledge database can be set up which provides operators with 24/7 self-service and enables them to establish a continuous transfer of knowledge between employees. This creates a "single source of truth" that provides reliable and consistent information to all parties involved. At the same time, cross-company cooperation is strengthened.
Service and after-sales as a profit earner
The commercialization of service and after-sales requires a rethink and a strategic reorientation. Instead of being cost centres, they should be seen as sources of profits. Digital business models such as additional service packages and maintenance contracts not only increase revenue, but also strengthen customer loyalty. Effective data analysis can generate valuable insights for optimizing service and after-sales strategies. When companies regard service and after-sales as profit generators, they not only increase their profitability, but also achieve long-term business success.
Scalable modules for a proactive service offering
Proactive service and after-sales require effective collaboration between your own employees and the end customer which, thanks to EquipmentCloud®, can take place on one central platform. With nine different modules, the range of services can be flexibly scaled and implemented immediately, step by step, without expensive development costs. The shared database of all modules, also including individually configurable dashboards, makes this possible.
Workshops and guided onboarding for clear customer success
The obstacles facing digitalization projects in mechanical engineering could not be more diverse and complex. For this reason, we have created exclusive workshops with experts from the EquipmentCloud® community to identify service potential, develop digital business models, market digital services and answer questions about data security and cloud compliance. Through our guided onboarding process as part of a proof of concept (PoC), our experienced customer success management team accompanies you through the entire digitalization process and thus ensures significant customer success.
Making service success measurable with specific indicators
To bring service and after-sales in from the cold and raise their status in the company, concrete indicators are needed that make the growth potential of service success visible. With its dynamic dashboard, extensive evaluations and structured KPI analyses, the cloud-based digitalization solution EquipmentCloud® offers service managers the perfect tool for transparently demonstrating service efficiency and management potential.
Remote maintenance and support based on edge devices for faster problem resolution and improved collaboration
Overview
Every mile your experts have to drive to your production sites is a valuable loss of time. You can change that: With a new business model based on prevention and efficient problem solving. With connected edge devices, you can take remote maintenance and support to a new level. Instead of traveling long distances, your expert team communicates directly with on-site technicians from anywhere. Instant, real-time communication allows you to address issues immediately, access machines remotely, and collaborate on efficient solutions.
Potentials
Discover your potential for edge device management in mechanical engineering:
Reduced problem resolution times: More reliable remote diagnostics lead to faster repairs and reduced downtime
Reduced costs: Monitor all devices and machines in one central location while reducing travel and maintenance costs
Reduced downtime: Rapid technical analysis and remote machine troubleshooting minimizes downtime and production loss
Interactive modules
Bundled information in one place with interactive modules
With the EquipmentCloud® Software-as-a-Service solution, equipment manufacturers can bundle all machine- and service-related information in one place and make it proactively available to their customers. In addition to documents such as manuals, assembly instructions or SLAs (Service Level Agreements), shared information can be stored during remote maintenance. Remote support interventions can be documented using journal entries, pre-built templates or master data adjustments due to parameter changes, and it is possible to access and remotely install software updates on the machine.
In addition, the temporary remoting or VPN connection can be established directly from the DeviceManagement module and the health data of the edge device or machine can be viewed prior to remote support. Live video support can also be used in combination with the RemoteAssistance module to speed up the problem resolution process. This creates a single source of truth that provides reliable and consistent information to all stakeholders while fostering collaboration across the enterprise.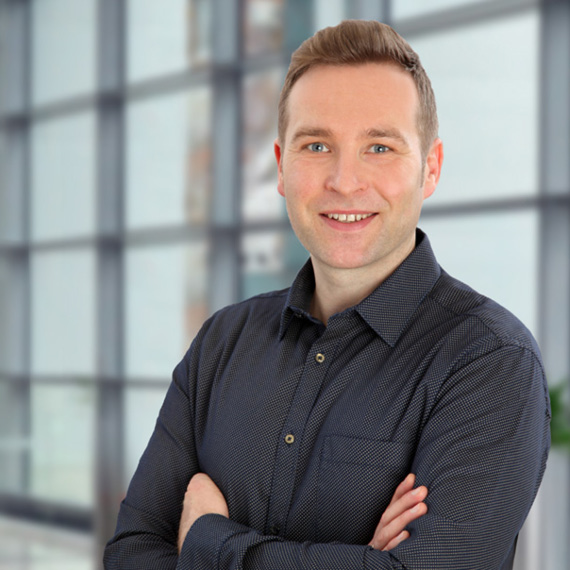 Martin Falsner
Sales Manager
Digitalization