FabEagle®Connect
The Low-Code Integration Solution for Standardized Interfaces in Production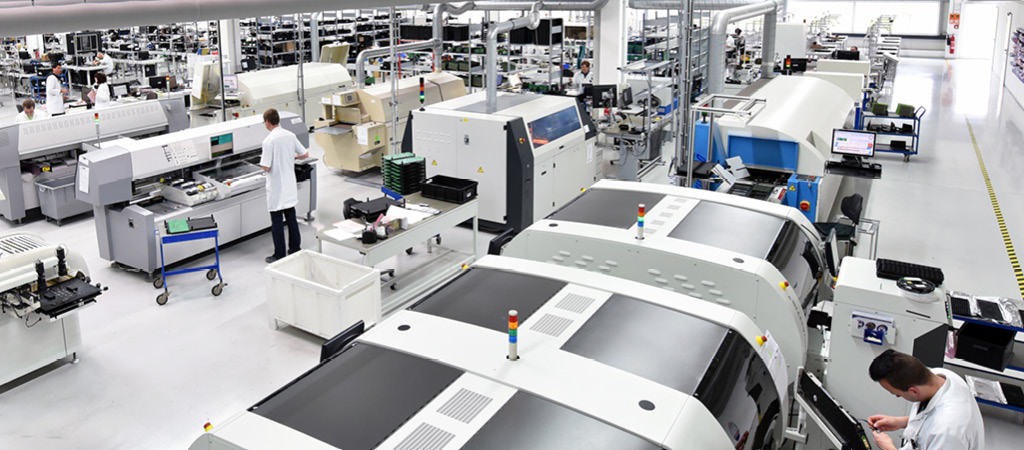 With FabEagle®Connect, you can create configurable and reliable interfaces such as OPC UA, REST or TCP/IP for your machines and IoT applications. As the degree of automation increases, our solution helps you meet the IT requirements for reliable interface integration of your production machines and devices – regardless of their age or manufacturer. Our integration solution uses modular components for interface protocols and data processing.
FabEagle®Connect – Your benefits
Easy machine integration using low-code configuration dialogs for interfaces

Cost savings through use and connection of various interface protocols

More data security thanks to regular functional and security updates

React flexibly to changes with easy adjustments to interface configurations

High future security through scaling in parallel FabEagle®Connect applications

Modular integration of own logics and interfaces

Additional logic for digital signals can be integrated from older machines
FabEagle®Connect: The solution for various use cases
IoT bundle: FabEagle®Connect with gateway KBox A-250
With the KBox A-250 from Kontron, you get a box PC optimized for gateway applications. FabEagle®Connect and KBox come bundled, pre-installed and ready for use.
Standardizing interface integration in production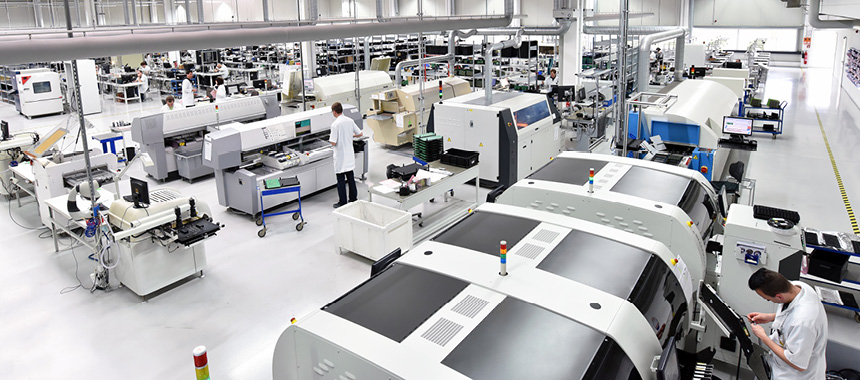 With FabEagle®Connect, we offer you complete standardization of the integration level between shop floor and IT systems in one solution. This simplifies integration and maintenance for a wide range of interfaces.
Special interfaces and existing machines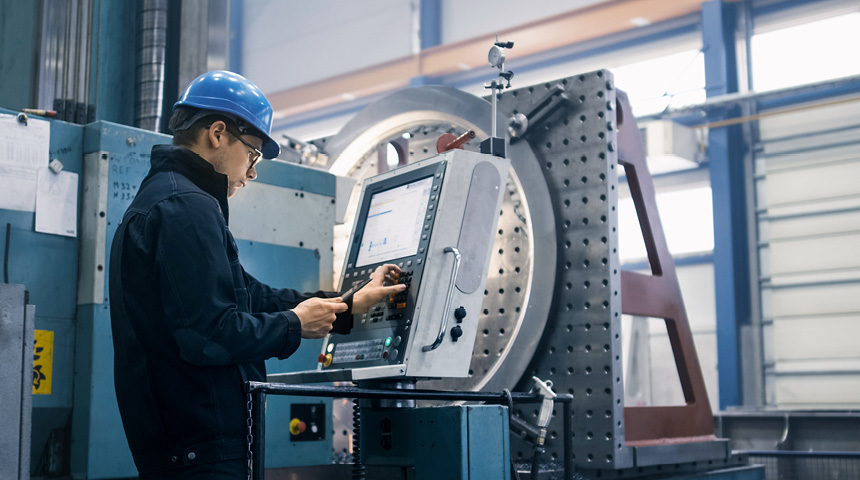 Company-specific systems often require interfaces that are not specified in the standards. FabEagle®Connect also supports special solutions and machines that have been in operation for a long time so that you can continue using them with our code component.
Industry-specific interface protocols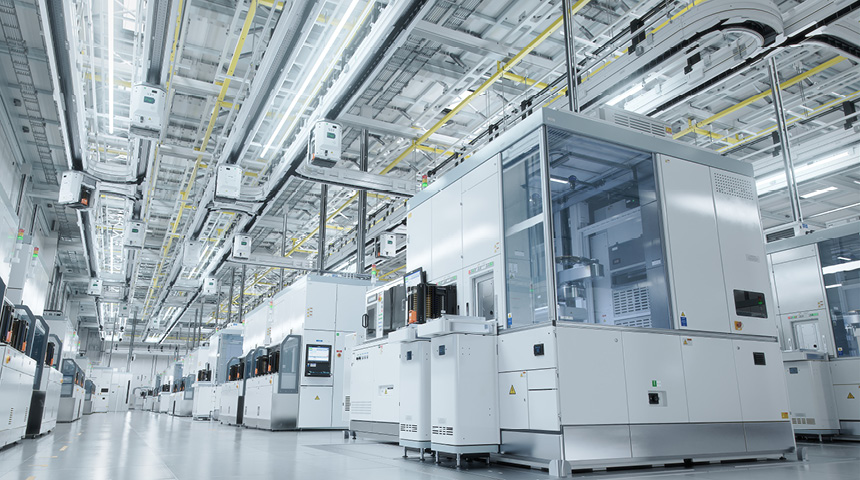 Thanks to the modular architecture of our FabEagle®Connect integration solution, you benefit from continuous expansion with new interfaces such as SECS/GEM, PV02, EUROMAP and SEMI A1.
Overview of components and features
With FabEagle®Connect, we offer you a comprehensive interface integration solution that allows you to create functioning interface configurations after just a few minutes of training thanks to reusable components and guided configuration dialogs.
Data interfaces for your integration projects
Data access via file and database interfaces
Data processing using code components

Use cloud interfaces to transfer data from production to IoT applications via REST, MQTT and ActiveMQ

Proven IT interfaces such as OPC UA, TCP/IP, Modbus and RS232 as standard for connecting machines and devices

Automation interfaces for reliable data transmission, e.g. for Siemens PLCs

Access to CSV, XML, and JSON files via file interfaces

Writing and reading in MS SQL, MySQL, Oracle, PostgreSQL, SQLite, Firebird databases

Develop custom logics in freely programmable components with C# script

Aggregate data sets to form a result

Buffer data on gateways or servers

Filter and delete data records and messages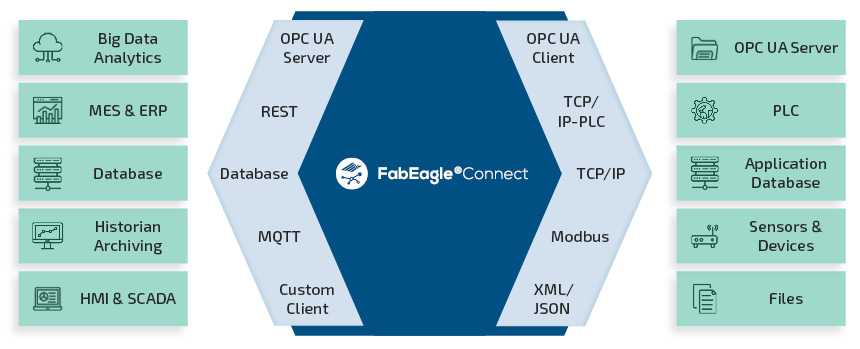 Interfaces available with FabEagle®Connect
OPC UA Client

OPC UA Server

REST

TCP/IP

Custom Client

MQTT

PLC-S7

Modbus

XML/JSON

Databases
Sample applications for FabEagle®Connect
MES

ERP

Historian Archiving

HMI & SCADA

Big Data Analytics

Database

OPC UA Server

Application Database

PLC

Files

Sensors & Devices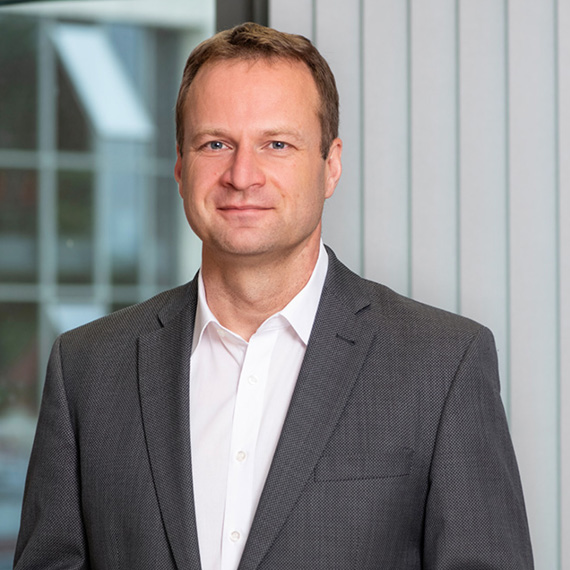 Frank Tannhäuser
Senior Sales Manager
Manufacturing Automation, Automotive, Photovoltaic
André Dittrich
Sales Manager
Manufacturing Automation, Automotive, Photovoltaic