Individual Control Solutions to Automize Transport Systems in Factories
Increase your efficiency with connected processes and machines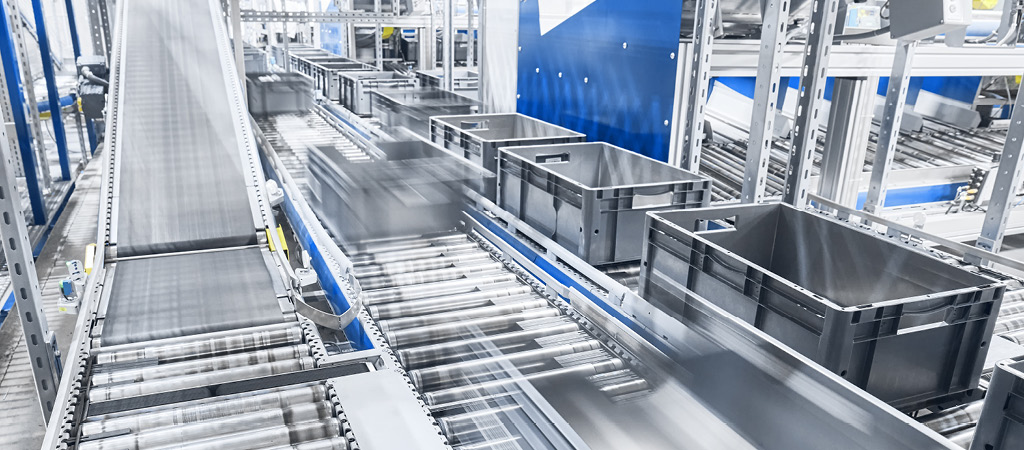 Loading and unloading systems, chain-, belt- or screw conveyors, lifts or buffers – transport systems increase the efficiency and optimize the material flow between manual workstations, machines and other manufactural equipment or even between entire production lines. The key to this: a comprehensive automation through a seamless integration of all systems from a wide range of manufacturers. By providing tailor-made control solutions, we connect your processes and reliably transfer materials and data to the desired destination. The integration of control systems and horizontal product tracking is state of the art.
Challenges for the control of automated transport systems
The challenges associated with control solutions for automating transfer and transport systems by interconnecting process machines vary widely and depend on project-specific factors such as
factory size,

industry,

number of process steps,

number of machines, production lines or assembly lines,

existing IT infrastructure,

required interfaces to machines, line controllers or MES.
With over 30 years of experience, we can help you meet these challenges. Our experienced project team supports you through all phases of the path to your individual control solution. This gives you the freedom to focus on your core business.
6 steps to control your automated transportation systems
With our expertise and an experienced team, we are able to adapt to your individual needs. Our customized control solutions will automatize your transport systems and ensure a smooth production process. Experienced project managers coordinate and supervise the entire planning and development process.
Analysis of general conditions and processes

Identification of possible automation approaches and concepts

Consulting for suitable control systems as well as drive- and safety technologies

Modelling of transport systems to verify machine performance in advance

Definition and integration of all relevant system parameters such as speed and accelerations

Implementation of control logic to manage material flow under varying loads

Analyses for system optimization

Software architecture design

Preparation of project plans for development and commissioning phases

Programming of PLC software

Using the TIA portal (Totally Integrated Automation Portal)

Use of SCL (Structured Control Language), FUP (Function Plan) and GRAPH (sequential control) programming languages according to system requirements and complexity

Setting Hardware parameters

Software installation

Controller configuration

Commissioning of individual components and the entire system

Functional testing

Integration into higher-level systems such as line controllers or MES

Training and instruction

Individual service offerings for software, hardware, maintenance and troubleshooting based on your needs

Further development and software modifications when adapting processes, such as changing transport routes or adding new line components
André Dittrich
Sales Manager
Manufacturing Automation, Automotive, Photovoltaic