K-PORT
The Complete Fleet Management Solution for Edge Devices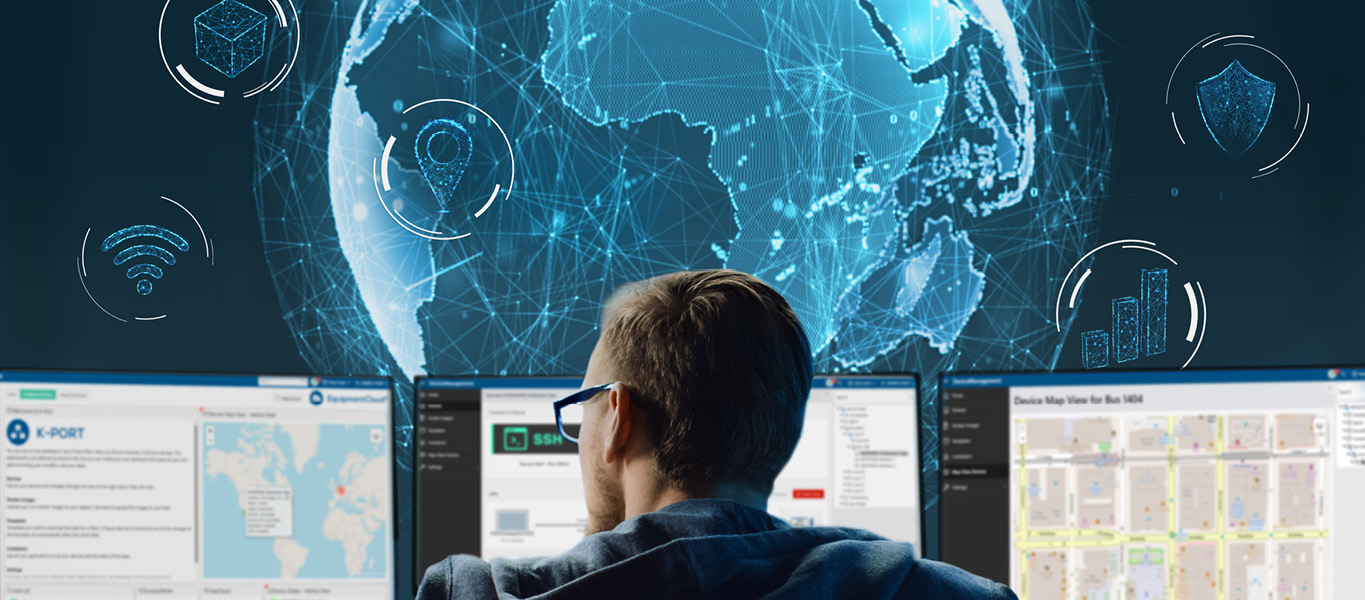 K-PORT is the complete fleet management solution for edge devices that has been specially developed to make management easy and simplify the rollout of container applications. This complete hardware and software solution lays the foundation for the development of your custom IoT solutions to automate tasks such as securely carrying out fleet updates at operating system and application level with just a few clicks, monitoring devices in the field and establishing fast remote support to minimize downtimes. This allows you to manage thousands of device connections end-to-end, globally and at a glance.
Proven added value for stakeholders of device and component manufacturers
IT managers
Minimize complexity for IT teams and free up IT resources

24/7 overview of globally distributed device fleet

Securely encrypt applications end-to-end

Continuous deployment during operation
Chief Digital Officer and R&D Officer
Monetize software licenses and custom applications

Increase machine turnover through digital service

Stay competitive due to accelerated time-to-market
Service and Support
Reduce costs of hardware, installation and maintenance

Minimize travel expenses

Save time due to direct and effective troubleshooting

Immediate depth of support down to device level

Act proactively and with foresight
Application scenarios with K-PORT
K-PORT makes it much easier to manage, monitor and operate your fleet of devices.

Container-based applications can be updated without manual effort using configurable image templates in K-PORT. Test and roll out update scenarios on edge devices distributed worldwide.

For service cases, use K-PORT to remotely access your machines quickly and efficiently. Set up a temporary VPN connection at control level to significantly increase your support depth.

Secure your x86 and Advanced RISC Machines (ARM) against critical vulnerabilities with a Yocto Linux-based operating system. Two redundant operating system partitions provide the highest availability and a secure management interface for updates and deployment.
Device management
Monitor condition of IoT devices

Manage all machines in a cloud-based environment for edge devices worldwide

Easy onboarding processes for IoT devices
Secure operating system
KontronOS for x86 and ARM systems based on Yocto Linux

Two redundant operating system partitions ensure 100% uptime

Secure management interface for updates and deployment

Can be updated at short notice in the event of critical weaknesses
Container management
Docker container admin

Deploy docker containers to device fleets in the field

Encapsulate customer applications (images) in containers
Remoting
Central management of desktop and remote access such as RDP & SSH access

Set up secure remote connections
VPN service
Activate and deactivate temporary direct access to the machine and device network

Establish a direct tunneling connection between networks

Manage, monitoring, and log VPN connections

Several experts can access the same one device/system in parallel
KontronOS
A core component of the K-PORT fleet management solution is the hardened Yocto-Linux®-based KontronOS operating system, which comes pre-installed for enhanced security and optimal operation of Docker containers in embedded and networked x86 or Arm®-based devices.
Protection against compromise, external access and uncontrolled updates
Intuitive network configuration interface
Redundancy through dual partitions
Integrated firewall for network zone definition
Physical security layer for device and user credentials
Integrated BIOS-level security mechanism via TPM 2.0 on x86 and via HAB for Arm®
GPIO support for digital signal usage
Continuous CVE/CWE scanning of software components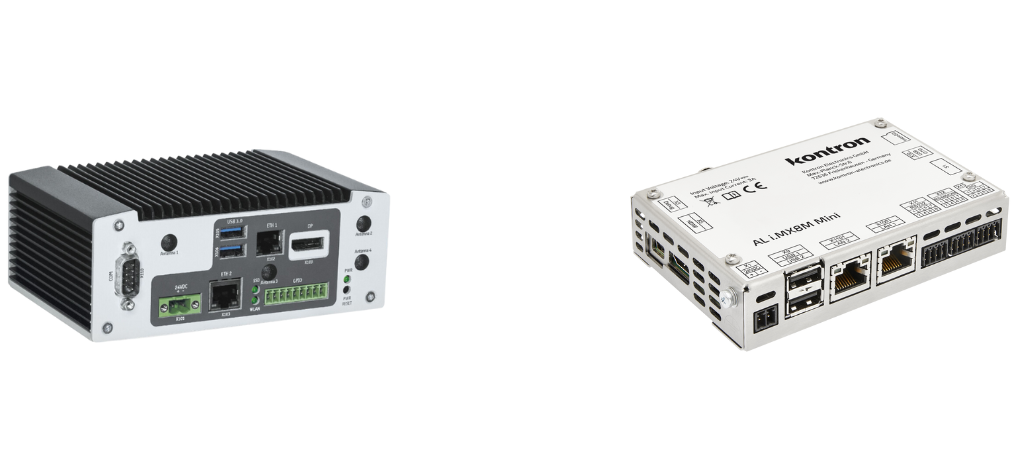 IoT Gateway "Premium" - Kontron KBox A-250
IoT Gateway "Compact" - Kontron AL i.MX8M Mini

Highlights

Excellent price/performance ratio
Recommended for high-performance and industrial IoT solutions for edge analytics, data collection and remote monitoring
WIFI/ LTE support

Highlights

Recommended for automation and IoT solutions in limited space thanks to compact and robust format
Numerous interfaces
High modularity

Technical data

Mounting DIN rail / wall mount / desktop
Material Aluminum housing
Dimensions 150 x 58 x 100 mm
Weight approx. 1.0 kg
Protection class IP20
Power supply 24 VDC (+/- 20%)
Operating temperature 0°C to + 45°C
Relative humidity 93% @40°C, non-condensing

Technical data

Mounting DIN rail
Material Alumiunium housing
Dimensions 111 x 25 x 76 mm
Weight approx < 1.0 kg
Protection class IP 20
Power supply 24 VDC (+/- 20%)
Operating temperature 0°C to + 55°C
Relative humidity

Hardware

CPU Intel x5-E3940 Quad Core (4x 1.6 Ghz; 9,5 W)
RAM 4GB
HDD 8GB SSD
Network / interfaces
1x GbE ETH, 1 Fast ETH, WOL support
2x USB 3.0
1x Serial (COM1, RS232)
9-pin GPIO Connector
1x DisplayPort V1.2

Cooling fanless
Security TPM V2.0


Certification CE, FCC, CB Schema, UL61010-1, UL61010-2-201

Hardware

CPU NXP i.MX8M Mini 4x ARM® Cortex®-A53@1.6GHz
RAM 4GB
HDD 32GB eMMC
Network / interfaces
1x GbE ETH, 1x 10/100 Mb
2x USB 2.0 (Host), 1x USB 2.0 (OTG)
1x RS232, 1x RS485
1x CAN 2.
4x DIO
1x HDMI, 1x LVDS, up to 1920 x 1080 @60fps"
Cooling fanless
Security HAB Secure Boot, Trust Zone, True RNG, RSA bis 4096, AES-128/192/256, 3DES, ARC4, MD-5, SHA up to 256, ECC, Secure JTAG
Certification CE

Software

Operating system: KontronOS (Yocto Linux

®

) hardened, pre-installed
K-PORT connection: Agent (Javaskript) pre-installed
Maschine connection: via Node-RED in Docker (optional)

Software

Operating system: KontronOS (Yocto Linux

®

) hardened, pre-installed
K-PORT connection: Agent (Javaskript) pre-installed
Maschine connection: via Node-RED in Docker (optional)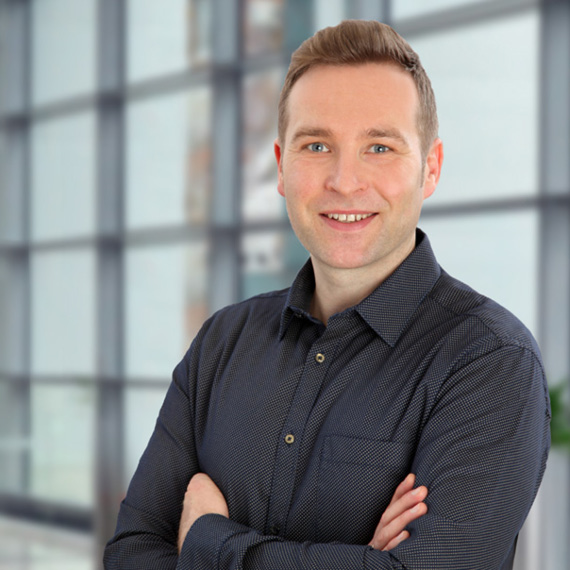 Martin Falsner
Sales Manager
Digitalization