Found Fast Instead of Searching for Ages: EquipmentCloud® IIoT Service Solution Expanded with Quanos Spare Parts Management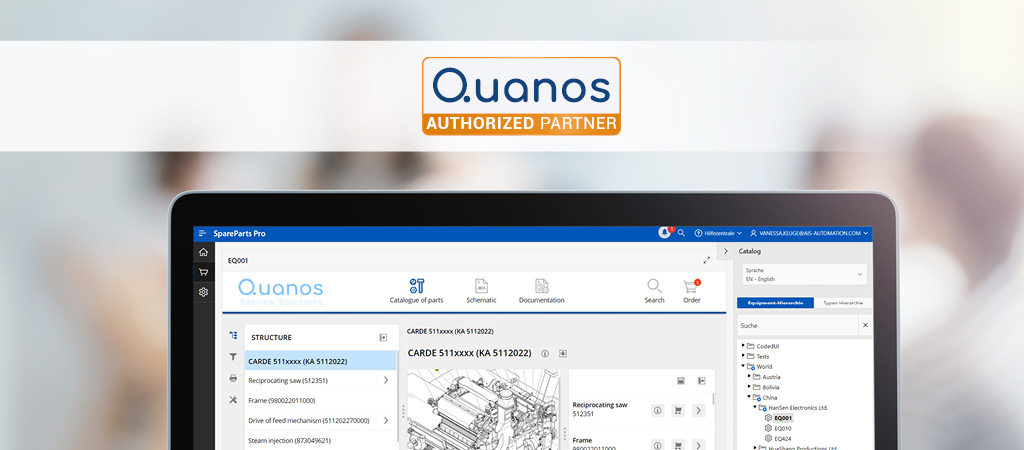 This cooperation enables an efficient spare parts management by adding the Quanos SIS.one digital spare parts catalog. That is how machine and plant manufacturers strengthen their customer loyalty, expand their after-sales offering and increase the turnover of their spare parts business. Because the module is integrated into the EquipmentCloud® customer portal directly, plant operators can identify spare parts simply and quickly using 2D or 3D images, spare parts catalogs, schematic drawings or interactive highlighting. As well as saving time, the risk of incorrect orders is minimized. Using an integrated maintenance calendar with an automatic notification function, it is easy to plan and keep track of routine and preventive maintenance and servicing tasks at any time. EquipmentCloud® users also benefit from the advantages of both software solutions on one platform:
Flexible catalog creation from various sources, e.g. CAD, ERP, PLM, DMS/CMS
Application-specific definition and publication of catalogs in a customer portal
Flexible definition of spare parts lists, prices or bundles
Easy navigation within spare parts catalogs at machine level
Integrated individual user and access management
Quick overview of shopping cart including order tracking
Optimized service with live data access and full machine integration
Full overview thanks to a dynamic dashboard at any time
This also gives existing Quanos users access to an agile IIoT service solution for the digital transformation of medium-sized machine and plant builders. Various user-friendly modules easily map internal and external processes and collect as well as analyze plant-related data centrally. All relevant information and key indicators are available to users at any time – around the clock if required, using a mobile app for smartphones. This enables fast service response times and the sustainable design of optimized and efficient processes.
Further information about the EquipmentCloud® IIoT service solution: www.equipmentcloud.de
Further information about Quanos: www.quanos.com