We Donate to the Dresdner Kinderhilfe e.V.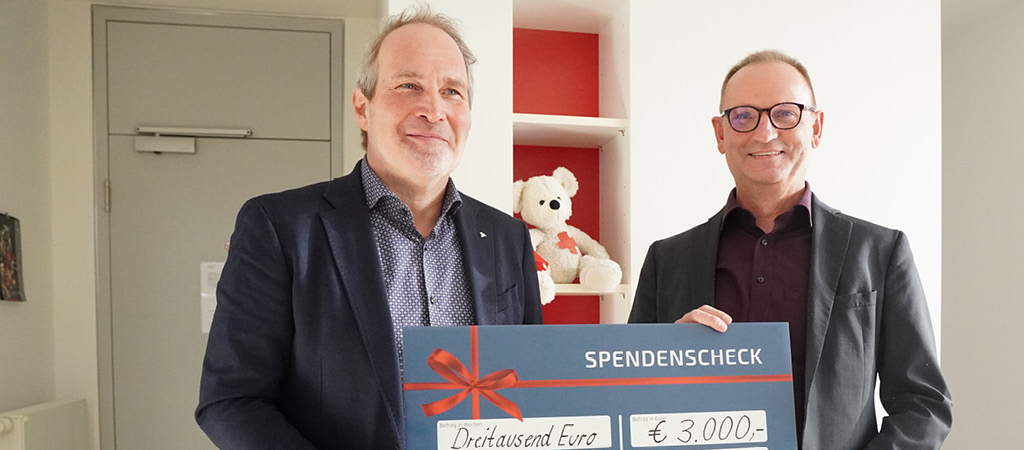 "You cannot ease all hardship in the word, but you can give people hope." (Albert Schweitzer)
Dresdner Kinderhilfe gives this hope to families with chronically ill children and helps parents during this difficult time. Supporting the organization again this year with a donation is a matter close to our hearts at Kontron AIS.
When we visited Elternhaus Teddybär in the first week of the new year, the bright, friendly rooms of the building constructed in 2008 in the Dresden district of Blasewitz impressed us as they do every year. Warmly welcomed by the chairman Michael Doerwald and the team of the Dresdner Kinderhilfe, we got an insight into current topics that concern the association.
Currently, almost all the rooms in the house are occupied, because: chronically ill children often have to spend many weeks in the hospital. But the little patients can be helped much better if mother or father are nearby. If hospital and residence are several hours' drive apart, parents can spend the night here in close proximity of the Universitätsklinikum and give their children comfort. During the day, hardly anyone is to be found in the house, as most parents are with their children. Especially mothers of premature babies spend a lot of time in the pediatric clinic of the Universitätsklinikum. Only recently, donations financed ten new nursing chairs in the premature infants' ward. Here, mothers can sit comfortably for longer periods of time and nurse their babies or cuddle with them.
The association also keeps rooms available for parents from Ukraine. Michael Doerwald reported on the fate of many children who come to Germany from the war zone with burn injuries and are cared for in the Universitätsklinikum. The parents find a place to stay in the parents' house to gain new strength and to be there for their children.
We are happy to personally hand over our donation of € 3,000. On the one hand, the money will be used for the maintenance of the parents' house, as some renovation work is planned for 2023. On the other hand, a new project at the Universitätsklinikum Dresden will be supported: the creation of a safe haven for parents who fear for their children while they have to be treated in the pediatric clinic or surgery.
At the end of the visit, the team of the Dresdner Kinderhilfe showed us a parents' room, which was unoccupied at that time. When we looked outside from the balcony, we were surprised by a rainbow. A ray of hope on a rainy day - exactly what the Dresdner Kinderhilfe stands for: a safe haven for families in a difficult time. We thank you from the bottom of our hearts for your volunteer work!
The association would also appreciate your help – even small donations make a difference. On the website of the Dresdner Kinderhilfe www.dresdner-kinderhilfe.de you can inform yourself about support possibilities.